Food Street: 2 Reasons Behind Delicious Addictiveness
---
Minutes to Read: 5:00
Crunch time on Food Street
It's 1 am; I'm panicking because I only have an hour before my Food Truck leaves, and I'm short of two orders of burgers. Failing to complete the Food Truck orders means not getting a coupon. Completing Food Truck challenges is one of only two ways in Food Street to get coupons.
I've spent the past hour completing orders, and I'm about to fail because of two burgers. Two. Burgers.
Each burger takes 15 minutes to cook and requires:
One (1) cabbage
Two (2) loaves of bread
One (1) beef patty
A beef patty takes 20 minutes to produce, and I accidentally made two (2) bottles of milk instead of two (2) beef patties.
Queueing in Food Street doesn't mean both items get produced at the same time, one of my few gripes with the restaurant management game.
You have to wait until one item finishes before the next item starts…producing. Queueing only saves you the hassle of forgetting to cook an order or plant a crop or produce meat. In Food Street, where there's always an order to complete, or crop to plant, or meat to produce making mistakes is easy.
Mistakes like making milk instead of beef patties.
You see my dilemma here. I need an hour and ten minutes to make the two burgers. The truck leaves in an hour.
I can use gems to speed things up. But I am a chronic gem hoarder (I very rarely spend on in-app items), and Food Street doesn't give them out lightly (about 1-2 gems every level up). They're up last resort alley. A "minute-before-I-run-out-of-time" type of sacrifice.
I check my World, where people sell things they don't need. Result! Someone's selling five slabs of beef for 120 coins. I only need two, and 120 coins is expensive. But so is the past hour I've spent farming cabbage instead of sleeping. I tap to buy, inwardly giving myself a pat in the back for being so lucky.
The game loads, and I stare at a spinning doughnut for while, et voila!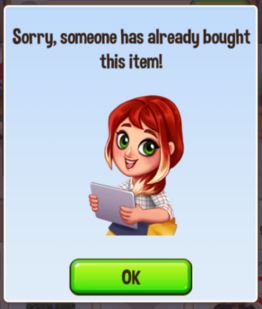 F*ck.
I used 4 gems to get the last burger in time.
Behind the magic of Food Street:
It's rare for me to spend 30 minutes straight on a free-to-play app, let alone a whole night. What London-based studio Supersolid has on its hands is an insanely addictive gem of game.
We can break down Food Street's addictiveness to two points:
Beautiful graphics and animation:
The animation on Food Street is calculated, bordering on obsessive attention to detail.
Your customers come in and they don't only stand behind the counter waiting for orders, staring at you with dead eyes and frozen smiles; they grab a seat for themselves, move their head left and right while looking through a menu, and clap like a very happy seal when their food gets served. A construction worker naps while another one plays with an RC car and makes a ramp to jump over his sleeping friend. The servers trip sometimes on the way to the counter. You can see the Margherita Pizza cooking in the oven. The menu has text and sections, even though illegibly small.
Thing is, these characters don't have to do that – a clumsy server doesn't affect sales or the product – but him tripping, and all the other little but deliberate movements happening within the game contribute in a big way to bringing this digital space to life and endearing players to it. This is my restaurant, and I'll make damned sure it isn't sh*tty.
F2P simulation games can be too heavy-handed when it comes to making players wait. I get it, it's how they entice players to spend, but overdoing it means an uninstall for me. No one has time to wait for 20 minutes the first few minutes of playing a new game.
The waiting times in Food Street hit the perfect balance of patience and pain. It introduces short waiting times at the start; wheat only takes 45s to grow. Not so bad, right?
Food Street is also programmed to offer players other things to do while whittling down those 45s. You can start completing other orders, try your luck at the World trade(which refreshes every 10 minutes) for cheap ingredients, rearrange furniture inside the shop, check out (in my case, fawn over) other players' lots (and even help them while you're at it!), and decide if you're going to take a to-go order or not.
The gameplay challenge is there, with just the right amount of waiting in between. 
Before you know it, you've got a groove going. Waiting 2 hours for an onion won't faze you anymore, because you've got other things to do in-game anyway.
Every push notification from Food Street is important, because that means you either finished a dish and can complete an order or now have ingredients to start cooking a new dish. At Level 18, the Food Club feature unlocks, and players can join a club and participate in cook-off campaigns against other clubs.
Everything from the amount of carefully crafted content to even pacing makes Food Street difficult to put down. From the very beginning it's obvious that this is a game that sincerely tries hard to keep players engaged.
I set alarms on my phone to alert me when orders finish cooking. I think they're doing a pretty good job at engaging players.
Take it from a (lowly) Level 21 player who stayed up all night cooking digital burgers to send off on a digital food truck.
Wanna try out Food Street? It's available for download on Google Play and the App Store. Get cooking!
Chieftin likes beaches. All kinds of beaches. She loves the rogue-class and doesn't understand why anyone would want to control a moving boulder a.k.a anything in warrior-class. She is currently pursuing further studies in creative writing and pursuing even more vigorously what to do with creative writing.

All views and opinions are strictly that of the author's.
Latest posts by Chief Tin (see all)